Boxhead 2play rooms, is one of the more popular Boxhead games. It gives the 2 Player Cooperative or deathmatch abilities, and has practically infinite play time! 
This is the screen that you recieve when pressing Pause(P). The number shows at what kill meter number you get that upgrade.There are also more new characters.And
Bambo has a newer look.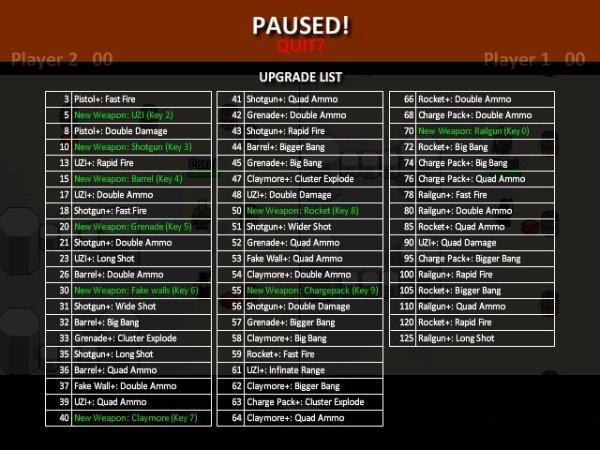 Standard Gameplay
Edit
Single Player
Edit
Choose your character, pick a room and start. The point is to kill Zombies and Devils, at the same time surviving them. Collect crates for weapons and ammunition.
Same as above, but with two player. More firepower, but you must share the screen.
Deathmatch
Edit
A two-player battle, where all of the weapons are already unlocked. Any map may be chosen. It is possible to build cities and structures, as Zombies and Devils are not present.
Game Objectives
Edit
Kill zombies

Death Match
Edit
Kill each other