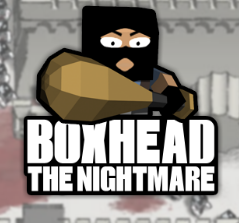 Boxhead: The Nightmare
Edit
(Note: Only Wiki Staff can Edit this.)
Boxhead: The Nightmare is the 2nd Online Game also 6th Boxhead Game.Created by CrazyMonkey.com .More Weapons & Turrets are added & new zombies are added.It used to be hosted on Facebook, but moved to Kongregate. It has a virtual currency called "Boins" that is used to buy upgrades for your characters. It also has a premium currency (that is, one which costs real money) called "Bollers" that makes the game easier. The characters have new faces, and there are more of them. More turrets were also added.
(Note: Only Wiki Staff can Edit this.)
1.) Road 666
Ad blocker interference detected!
Wikia is a free-to-use site that makes money from advertising. We have a modified experience for viewers using ad blockers

Wikia is not accessible if you've made further modifications. Remove the custom ad blocker rule(s) and the page will load as expected.